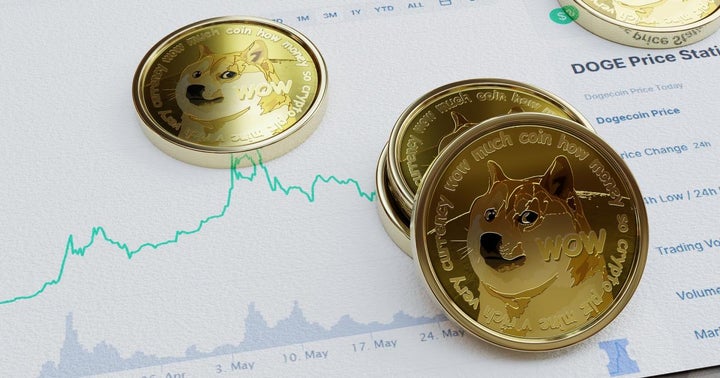 AMC Entertainment Holdings, Inc (NYSE:AMC) CEO Adam Aron posted a poll on Twitter asking his followers if the theater chain should explore adding Dogecoin (CRYPTO: DOGE) as a payment option when it begins accepting Bitcoin (CRYPTO: BTC), Ethereum (CRYPTO: ETH), Litecoin (CRYPTO: LTC) and Bitcoin Cash (CRYPTO: BCH) later this year. At press time the results of the poll had 72.7% of respondents voting "yes, for sure do it."
Dogecoin has been negatively affected by its relation to both Bitcoin and the general markets, which have taken a downturn recently. It looks as though a reversal for the Shiba-Inu-themed crypto could be in the cards, however, and on Tuesday Dogecoin was holding up stronger than Bitcoin. 
See Also: How to Buy Dogecoin
The Dogecoin Chart: On Monday Dogecoin slammed into a support level just below the 20-cent mark and bulls bought the dip, which caused the crypto to print a large red candle with a lower wick. On Tuesday Dogecoin retested the level but bulls came in again and propped the crypto back up over 20 cents.
The two-day price action caused Dogecoin to create a tweezer bottom pattern, which is a reversal indicator for technical traders. A tweezer bottom pattern indicates that a bearish trend may be turning bullish but higher prices on Wednesday will be needed to confirm the formation was recognized.
Dogecoin's relative strength index (RSI) reached 31% on Tuesday, which puts the crypto near overbought territory. When a stock or crypto's RSI nears or exceeds the 30% level, it's a buy signal for technical traders because RSI always corrects back toward the 50% level although it can stay extended for long periods of time.
Dogecoin is trading below the eight-day and 21-day exponential moving averages with the eight-day EMA trending below the 21-day, both of which are bearish indicators. The crypto is also trading below the 200-day simple moving average, which indicates long-term sentiment is currently bearish.
Bulls want to see a reaction to the tweezer bottom pattern and for big bullish volume to come in and pop Dogecoin back up toward the 23-cent level. If the crypto can regain the level as support, it has room to paw its way back up toward 27 cents.
Bears want to see big bearish volume drop the crypto down below the 20-cent mark. If Dogecoin loses the level as support, it could fall further toward the 16 cent mark.