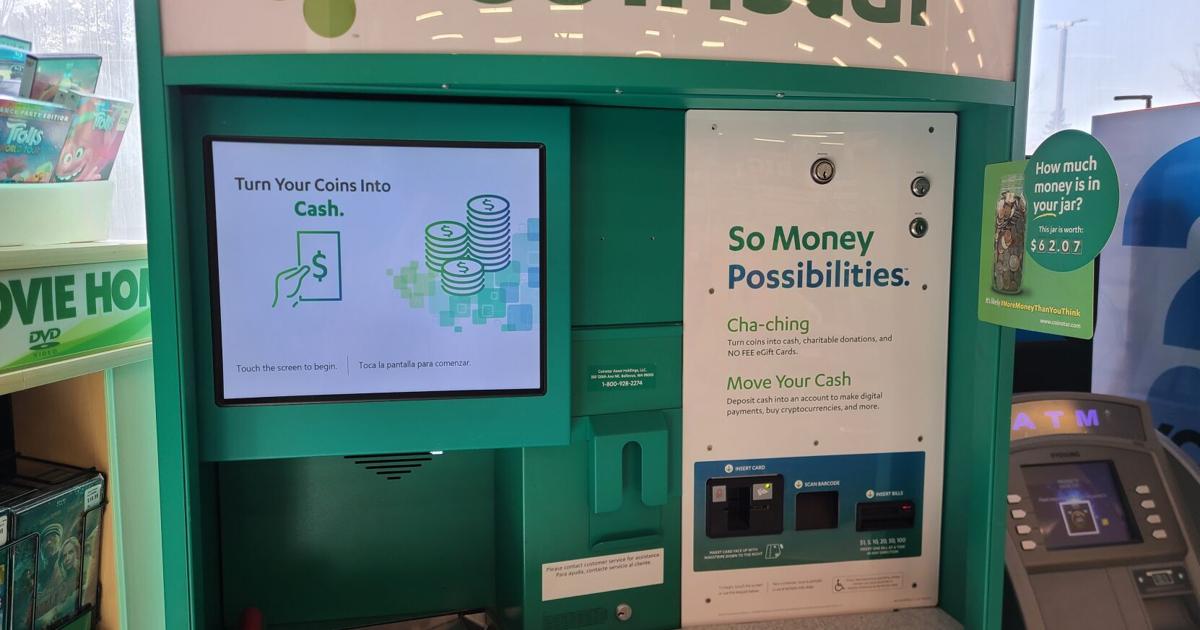 MANCHESTER — A walrus. A bison. The Liberty Bell. All of them weigh about 2,000 pounds, give or take.
And that's the weight in quarters — 4,022 rolls of them, as of the price at $40,221 per Bitcoin on Monday at 4 p.m. — that you'd have to load into the flatbed of a heavy-duty pickup truck and wheelbarrow into the Shaw's on Equinox Terrace in order to turn 160,884 quarters into a single Bitcoin at a Coinstar machine now connected to Coinme, a cryptocurrency management company.
But that's not how Coinstar's partnership with Coinme works. Indeed, for the purpose of buying Bitcoin, you'll need a smartphone and paper money — not coins. Customers are limited to $2,900 a day, in bills of $1 and larger.
Yes, you can start with as little as $1. And don't worry that you're $40,220 short as of yesterday afternoon's price — Bitcoin transactions are measured out to 8 decimal places.
You will, however, need an app on your phone in order to set up an account and complete the transaction.
Since launching one of the world's first Bitcoin automated teller machines in 2014, "we've learned that Bitcoin is in demand everywhere. And we have a mission to be a trusted gateway to digital currency in a better financial future," Coinme co-founder and CEO Neil Bergquist told Vermont News & Media on Monday.
"In order to do that we need to provide access. And so that's why we partnered with Coinstar in early 2019 is because they have spent the last 30 plus years deploying a network of over 20,000 kiosks."
The agreement brings together an old-school need with new-school technology. And it has allowed Coinme to boast it has crypto-enabled kiosks within five miles for 90 percent of the U.S. population, Bergquist said.
While Bergquist appreciates the state motto of "Freedom and Unity," Vermont is a good place to expand cryptocurrency access because that's true everywhere, he said.
"The only market research is that across the United States, the majority of people have heard of Bitcoin and have an interest in it, but still only about 20 percent of people own any of it," he said. "And so that the gap is an opportunity."
The company said it has 9,918 Coinme-enabled Coinstar kiosks in 49 states in the U.S. Coinme has a total of 21,519 locations nationwide through partnerships with Coinstar and MoneyGram.
Coinme is different from online exchanges and bitcoin ATMs because it's simpler to use, the company says. Rather than a long, multicharacter password, Coinme uses a smartphone app, which can be downloaded onto iPhone and Android platforms. A valid phone number, a valid ID and cash in U.S. dollars is all you need to get started.
Typically, cryptocurrency users are given a private key to their virtual "wallet." But that has to be remembered — perhaps written down and placed in a safe deposit box or another secure location.
"If you lose that, you lose your Bitcoin. So you've probably read stories of people that have lost their private keys," he said. "They throw away a hard drive in a dump and now they're digging up the landfill because it's now worth $100 million."
"We've decided to make it very easy for our customers. And all you need to remember is a username and password to your Coinbase account in order to access your Bitcoin, to be able to view the balance, or to send or receive it or purchase more," Berquist said.
Why would a supermarket shopper stop to put money into their cryptocurrency account? Bergquist offered a few potential scenarios.
It could be someone who wanted to transfer money, perhaps overseas. Or it could be someone who is constantly chipping into their cryptocurrency wallet as an alternative investment strategy. (It should be noted the market value of cryptocurrencies has fluctuated significantly in the past year: the same Bitcoin that was worth $40,221 on Monday was worth $66,935 on Nov. 9 — and $29,768 on July 20.)
"It can be seen as a hedge against inflation or as an alternative investment. It's been the best-performing alternative investment over the last 10 years. And so many people look at owning a portion of it in their portfolio, and this is a very simple way to do that," Bergquist said.
"Also, people look at purchasing Bitcoin as a medium of exchange. And so Bitcoin can be used for payments or remittances to friends and family because it is can be sent over the Internet. And that means that any phone or computer with a cellular internet connection can now create a wallet or log into a wallet and receive stored money," Bergquist said. "That is one of the big technological breakthroughs of blockchain technology and cryptocurrency."
One of the chief criticisms of cryptocurrency in general and Bitcoin in particular has been the amount of electricity used by computer servers used in "mining" when the coins are created and transactions are processed.
"That's one reason why we're moving to offer more than just Bitcoin as a cryptocurrency on the kiosks. There's more efficient chains out there that do not consume as much power," Bergquist said.
Additionally, "What we found is many people that buy Bitcoin purchase it and then sit on it and just the mere fact of holding Bitcoin doesn't drain power," he said.