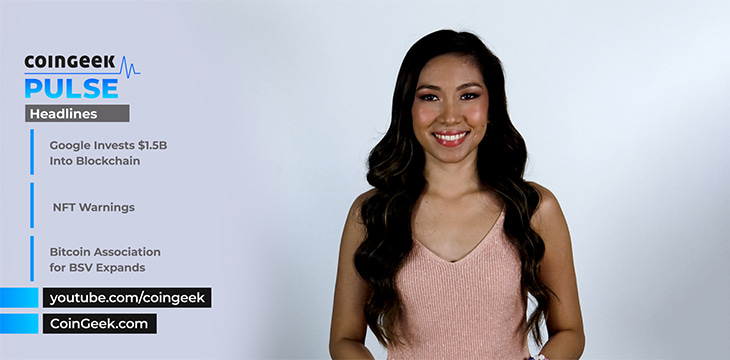 There is no stopping the growth of blockchain and digital assets globally. Recent data shows Top 100 public companies are investing in the space, with Google topping the list with over $1 billion in investments.
Alphabet (NASDAQ: GOOGL), Google's parent company, is the largest blockchain investor in the world today, with over $1.5 billion in investments made. The company has invested in four blockchain companies—Digital Currency Group, Fireblocks, Voltage, and Dapper Labs. BlackRock (NYSE: BLK) followed Alphabet with $1.1 billion. Other notable public companies on the list include Microsoft (NASDAQ: MSFT), Samsung, and PayPal (NASDAQ: PYPL). According to Blockdata, the 40 companies invested approximately $6 billion into blockchain startups between September 2021 and June 2022.
Early this year, at Google's 2021 Q4 Earnings Call, CEO Sundar Pichai shared his optimism about blockchain, calling it "an interesting and powerful technology with broad applications."
"We are looking at how we might contribute to the ecosystem and add value," Pichai stated.
Meanwhile, non-fungible tokens (NFTs) have increased in popularity in the past few years, with celebrities and key personalities promoting the tokens. However, not all are fans. Truth in Advertising (Tina.org) has called out 19 celebrities for promoting NFTs. The consumer watchdog has sent warning letters to Justin Bieber, Reese Witherspoon, Drake, Madonna, Paris Hilton, Gwyneth Paltrow, Tom Brady, and others after investigating the celebrities and their involvement in NFT promotions on their social media channels.
The group has found that the celebrities have failed to clearly disclose their material connection to the endorsed NFT company, as well as the risks and harm associated with investing in speculative digital assets.
Witherspoon and Bieber's legal teams denied wrongdoing in promoting NFT companies World of Women and InBetweeners, respectively. Bieber's team, however, stated that he "would update his post concerning InBetweeners."
The Bitcoin Association for BSV is expanding its growth in many regions. This week the association announced the appointment of four new ambassadors in Europe, the Middle East, and the African region. The list of new ambassadors includes Sami Carouba, Rami El Sabeh, Michel Abboud, and Anas Hakimeh. According to the association, all four ambassadors share experience in the blockchain industry and are a valuable part of the BSV ecosystem.
And before you go, check out the first-ever BSV Blockchain Meetup Manila in the Philippines. The exclusive event was held at a private club in the city with guests and key personalities from the country's government agencies and top companies such as Unionbank, Gcash, DITO CME, Air Asia, and Angkas. The group joined to discuss blockchain solutions that will empower the Philippines in the 21st century. Watch the full video soon on the CoinGeek YouTube Channel.
Watch the latest CoinGeek Conversations episode with Michał Scisłowski here: 
New to Bitcoin? Check out CoinGeek's Bitcoin for Beginners section, the ultimate resource guide to learn more about Bitcoin—as originally envisioned by Satoshi Nakamoto—and blockchain.