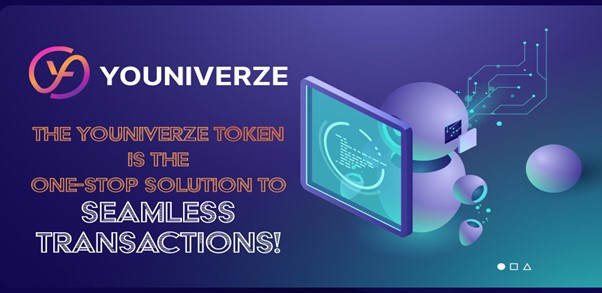 The popularity of blockchain technology and cryptocurrencies is growing significantly every day. As more individuals become aware of this innovative industry, the need to link these chains arise. Youniverze (YUNI) has developed efficient multi-chain technology and will be carefully analysed in this article.
Youniverze (YUNI) – The Ultimate Multichain Platform
Youniverze (YUNI) is the ultimate multi-chain platform for cryptocurrency trading, bridging, and sourcing. Youniverze (YUNI) creates a cost-effective, swift, and secure path of transactions for users.
The significant advantages of the Youniverze (YUNI) platform include cost-effectiveness, ease of understanding, high liquidity, multi-chain adoption, and incentivisation. Youniverze (YUNI) aims to make the crypto market more accessible to users by creating the most satisfactory crypto trading experience. The multi-chain platform designed by Youniverze (YUNI) will perform both small and large-scale transactions.
The Youniverze (YUNI) platform also provides users with a metaverse. The metaverse is not only a game but looks to provide users with a centre for virtual social interaction, selling, and accumulating digital goods.
Youniverze ecosystem's token is called YUNI. The token is used to pay for all services and transactions in the ecosystem. YUNI is used for governance, growth, stimulation, and rewards for early contributors. Staking entails locking some tokens held by users.
At the early stage of the sales, a private sale will kick off sales. Individuals or groups with a large sum of cash to invest will have the option to put money into the project at this private sale stage. A second stage comes right after the private sales, the presale, and the final stage is the public sale. An amount of the new token will be given for free or in exchange for a small service to the wallets of active blockchain community members.
Pay Transaction Fees with – Avalanche (AVAX)
Avalanche (AVAX) is an open-source, programmable smart contracts platform for decentralised applications (dApps). AVAX is the Avalanche network token used to pay transaction fees while securing the Avalanche network.
The advantages of the Avalanche network are speed, versatility, security, affordability, and easy accessibility. The Avalanche network is capable of supporting many blockchain-based projects. A consensus mechanism is used on the Avalanche (AVAX) network and is considered secure.
The work done in Avalanche (AVAX) network is done to perfection because the workload is distributed across many chains. The exchange chain (X-Chain) is the blockchain that allows assets to be created and traded on the Avalanche (AVAX) network, the contracts chain (C-chain) is an Ethereum virtual machine that is used to deploy Ethereum smart contracts, and the Platform chain (P-Chain) which keeps tracks of validators to manage the landscape of the network's subnet.
Chainlink (LINK) – Decentralised Network Of Nodes
Chainlink (LINK) is a decentralised network of nodes that provides reliable data and information for smart contracts across different blockchains. Chainlink (LINK) shows the capabilities of smart contracts by allowing access to off-chain data while maintaining privacy, security, and reliability on the blockchain.
Chainlink (LINK) initially launched on the Ethereum (ETH) blockchain but has expanded to every blockchain with smart contracts. Chainlink (LINK) aims to bridge on-chain and off-chain ecosystems and improve communication between smart contracts and blockchains.
The official token of the Chainlink network is LINK. LINK is an ERC-20 token but has the functionality of ERC-223, allowing users to send their tokens anywhere with one function transfer.
Final Thoughts
Youniverze (YUNI) has ticked all boxes as an excellent addition to one's portfolio. Youniverze (YUNI) is not only a multi-chain platform but also a community-driven ecosystem where the users participate in governance. Community-driven tokens are doing considerably well in the crypto market, and Youniverze (YUNI) won't be an exception.
For more information, visit:
Youniverze (YUNI)
Presale: http://join.youniverze.io/
Website: http://youniverze.io/
Telegram: https://t.me/YouniverzeOfficial
Twitter: https://twitter.com/Youniverze_
Disclaimer: This is a paid release. The statements, views and opinions expressed in this column are solely those of the content provider and do not necessarily represent those of Bitcoinist. Bitcoinist does not guarantee the accuracy or timeliness of information available in such content. Do your research and invest at your own risk.