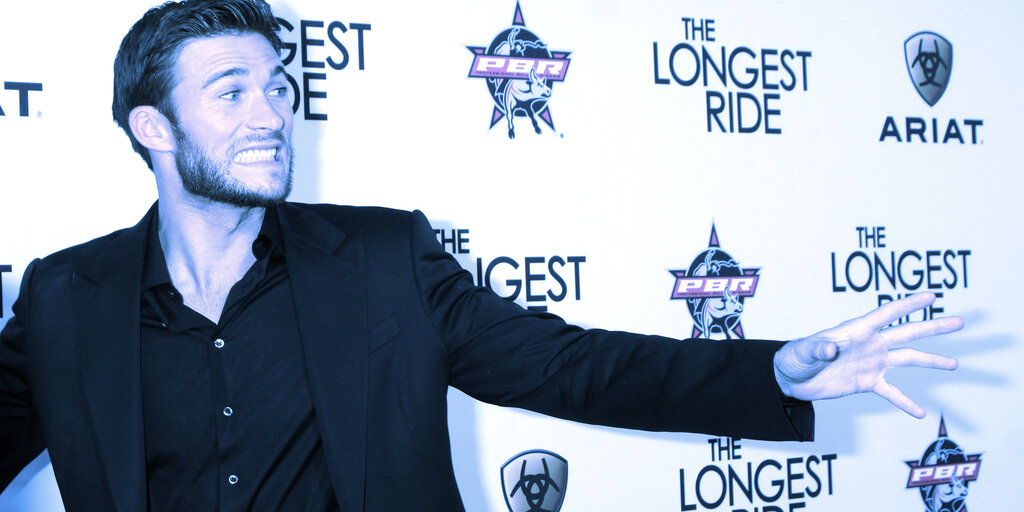 Scott Eastwood is no crypto bro.
The actor has just partnered with Pastel to give away free Scott Eastwood Ethereum NFTs, but was hesitant to get into NFTs because of the scams that pervade crypto.
In an exclusive interview with Decrypt, the star of "Suicide Squad," "Fate of the Furious," and "Pacific Rim" shared his concerns. "I've been so weary," Eastwood says. "Just seeing a lot of pump-and-dump scams and not really wanting to put my feet in the water until I sort of understood it."
NFTs—the blockchain-based tokens that signify ownership over an asset like digital art—are controversial in the entertainment industry, to say the least. While beloved by many in music and film, NFTs have also prompted a lot of "monkey JPEG" vitriol and fueled nightmare visions of burning rainforests in the minds of misinformed skeptics. 
NFTs IRL
But after connecting with
Pastel Network
co-founder Anthony Georgiades, Eastwood came around to NFTs and is launching 25 of his own via Pastel's SmartMint tool.
Eastwood—who's also an entrepreneur in his own right with an all-American beer company called MadeHere—will release three monthly NFT drops from October to December. The first is pop culture-inspired stylized portraits of Scott Eastwood by the artist Paul Gerben, who has previously worked with Pastel and has done commissioned physical art for the likes of Clint Eastwood, Jimmy Fallon, Howard Stern, and Dave Chappelle.
The NFT portraits will depict Scott Eastwood as a range of different comic book and pop culture icons like Wolverine, The Flash, and Rambo.
Eastwood says these NFTs will also unlock IRL benefits. Owning one of the portraits might grant holders exclusive perks like signed Eastwood memorabilia or tickets to exclusive premieres.
Eastwood's second NFT drop will feature a still from one of Eastwood's movies and will grant holders access to never-before-seen stills, memorabilia from the movie, and a donation in their name to their favorite veterans or armed forces charity.  
Chug-to-earn
Fans who want to get ahold of Eastwood's third NFT drop will have to complete the "Eastwood Challenge" on social media.
While it might sound like a viral TikTok trend (a la Pink Sauce), the Eastwood Challenge is pretty wholesome—though it does involve beer. Hopefuls will have to film themselves shotgunning a beer and then describe their favorite charity without burping. In return, Pastel will donate to the winners' charities.
You burp? You lose.
Goodbye, Gatekeepers
Now that he's come around to NFTs, how does Eastwood feel about Hollywood going Web3?
"It shifts power back to the artist," Eastwood said of Hollywood producers like Niels Juul and Bryan Unkeless, who are funding projects with NFTs to get around film financing gatekeepers. "That's the ultimate for an artist, you know, to have control and have it be tailored by the people and the market," he said. 
Despite being a billion-dollar industry, NFTs are still a new frontier. In Eastwood's view, that makes it impossible for anyone to truly be an expert. "I'm so new to the space, and I think everyone is kind of stumbling through it, if I'm being really honest," Eastwood said. "You know, there's a lot of 'experts' out there, I think, but there's really no experts at all, right? The space is in its infancy stages."
Still, Eastwood thinks digital art is here to stay—and that NFTs could revolutionize the way we verify and store data like medical records and real estate.
He now says to anyone as wary of NFTs as he was: "Art is meant to be debated, talked about, looked at, enjoyed. That's something I think will never go away." 
Editor's note: this article was updated at Pastel's request to remove mention of subsequently-retracted planned benefits for NFT holders.
Stay on top of crypto news, get daily updates in your inbox.