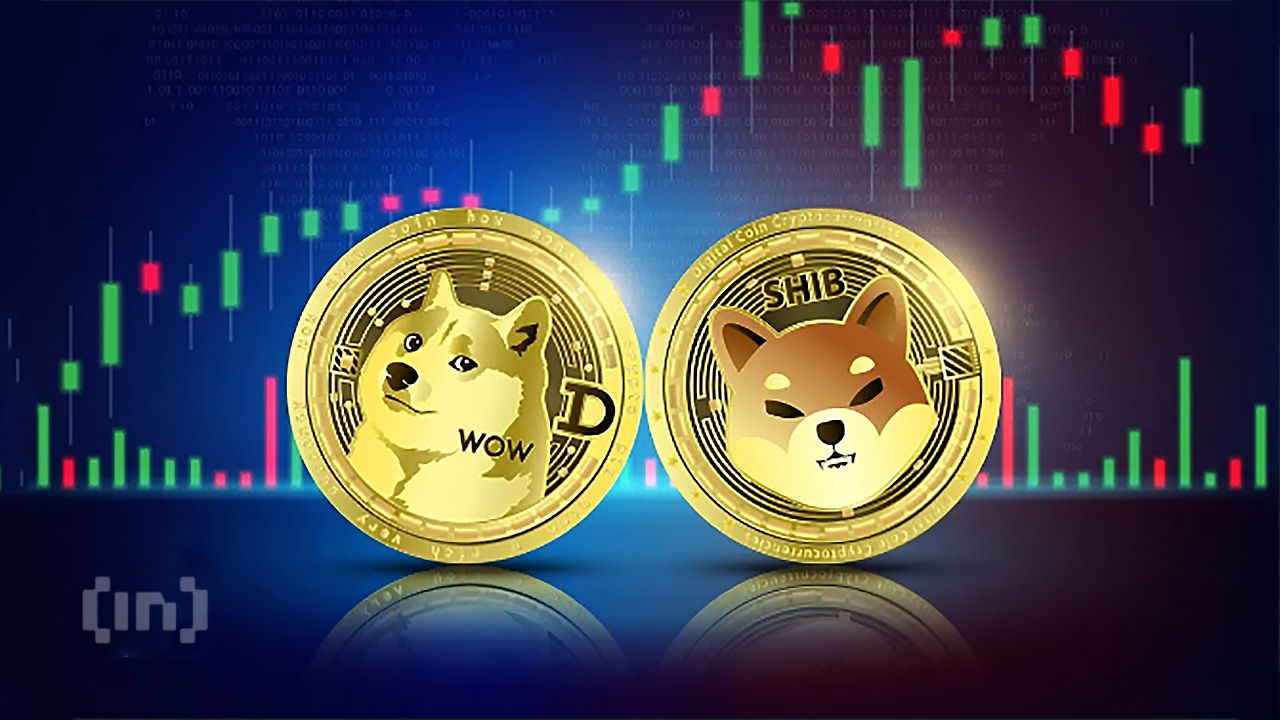 Dogecoin and Shiba Inu price prediction: Dogecoin (DOGE) and Shiba Inu (SHIB) have both fallen with a thud in 2022. But experts still say the popular meme coins will rise by up to 800% and 575%, respectively, in three years.
DOGE is down 92% since its all-time high of $0.7315 in May 2021, and currently trades at $0.0590. SHIB slumped 88% from its peak of $0.00008616 last October. As of writing, the price of SHIB is up 0.4% at $0.00001009 on the day, according to CoinGecko.
The meme coins have declined much faster than Bitcoin and Ethereum, in part dragged by a string of negative economic news over the last few months. Inflation is running at a 40-year high of 8.2% in the U.S., the world's biggest economy, and interest rates are rising.
But also, the market was ripe for flashing out "excesses" like DOGE and SHIB. Without utility, meme coins "are examples of speculative hype-coins better classified as fun for gamblers on an unprecedented 24/7 global scale," Mike McGlone, Bloomberg strategist, previously said.
Despite the volatility, observers remain upbeat that the two tokens, created as satirical online coins, will see significant growth over the next three years.
Dogecoin and Shiba Inu: how much will they be worth in 2025?
Crypto Predictions has a DOGE price prediction for 2022 that sees it trading at an average price of $0.0823 by the end of the year. The token will close 2023 marginally down at $0.0812. It should then end 2025 at about $0.0727, up over 23% from the current price of $0.0590.
The price of Shiba Inu is predicted to end this year at an $0.00001308, rising 30% from the existing price of $0.00001009. The meme coin should climb to $0.00001403 by the end of 2023 before soaring more than 135% to $0.00002377 at the end of 2025.
Coin Arbitrage Bot expects the price of Dogecoin to explode by about 800% to $0.5236 by the end of 2025, compared to its current price. Based on DOGE's historical price data, the website sees the token rising 200% to 0.1818 at the end of next year.
One year from now
It also predicts that one year from now, the average price of DOGE will be $0.2000. Over the next three years, the highest price level Dogecoin could reach is $1.1708, and the lowest $0.0369. By end of 2026, the token is forecast to rise by more than 1,330%.
On SHIB, Coin Arbitrage predicts that the average price will grow 575% to $0.00006828 by end of 2025, from its current trading price. While the outlook over the next month is bearish, with simple moving averages indicators crying "sell", SHIB will see growth over the coming three years.
The Shiba Inu price is expected to climb 134% in 2023, about 317% the year after and just under 1,000% to $0.00011050 in 2026. Over the same period, SHIB is forecast to reach a high of $0.00015270 and a low of $0.00000620.
Digital Coin Price predicts that the average price of Dogecoin will reach $0.2300 by end of 2025, rising 290% from its current value. The price will end this year barely moved at $0.0605. DOGE is seen rising 65% in 2023, before surging 120% the following year to $0.1300.
The website has a Shiba Inu average price prediction for 2025 of $0.00002620, an increase of 160% from the current price of $0.00001009. SHIB is expected to see marginal changes in price in the next three years, when measured against its explosive growth in the past.
In 2023, Digital Coin Price estimates that the token will rise to $0.0000166 and then about 110% to $0.00002130 by the end of 2024. By the end of this year, Shiba Inu is expected to reach a minimum price of $0.00000836 and a maximum of $0.00001250.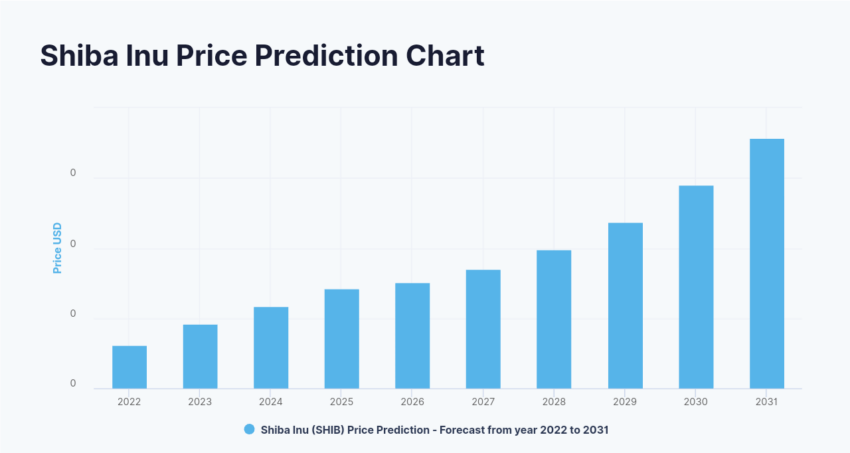 What drove DOGE and SHIB prices in the past?
Backed by a strong and passionate online community, DOGE and Shiba Inu haved continued to dominate the global meme coin narrative. DOGE is highly favored by Tesla founder Elon Musk. The billionaire frequently expresses his support for the dog-inspired coin on Twitter.
Musk is believed to be a top whale in Dogecoin, and has denied that he owns any SHIB. Some analysts say Musk's tweets about Dogecoin have minimal effects on DOGE's market price, but the token has reacted each time it gets a mention from the billionaire.

Musk says even though DOGE was created as a "silly joke, it is better suited for transactions" compared to Bitcoin. Tesla has since started accepting Dogecoin for payment on some merchandise. The Elon Musk factor has been key to DOGE's price action.
Shiba whales
Shiba Inu enjoys a lot of support from Ethereum whales. According to Whalestats, the top 100 Shiba Inu holders, minus exchange addresses and project wallets, also hold Ethereum. From the list of rich holders, about nine wallets own more than 1% of the outstanding supply of SHIB.
Altogether, the top 100 Shiba Inu whales own 20% of the total supply. On average, each wallet holds 1,967 billion SHIB, worth $19.85 million. It seems there is no monopoly from any one whale. None owns over 10% of the circulating supply.
The data shows SHIB whales have continued to accumulate, suggesting they believe in the future of the asset. This could be important in Shiba Inu's future price action. As it has been in the past. The 1.23 million total Shiba Inu holders have also helped drive the price.
Shiba Inu gained the limelight when it sent half of its initial supply of one quadrillion tokens to Vitalik Buterin. The Ethereum co-founder immediately sold about $1 billion worth of SHIB and donated the proceeds to India's pandemic relief fund.
Future growth

Going forward, SHIB is building on strong community support in addition to a series of improvements being made on the network to boost its token price.
On Oct. 6, Shiba Eternity game was launched and there are plans to unveil a metaverse and a layer two (L2) solution called Shibarium.
More than 410 trillion Shiba Inu tokens have so far been taken out of circulation in a process known as "burning", all part of a plan to help grow the SHIB price. 
"Although the two coins most likely will still flourish, my personal opinion puts SHIB ahead of the competition." Yohannes Christian, research analyst at crypto exchange Bitrue, told BeInCrypto in the past.
"This is due to the root fundamentals of the token. While Dogecoin has its own mainnet, SHIB is built on Ethereum, and transaction speeds and cost will likely become more efficient in the future."
Got something to say about this Dogecoin price prediction and this Shiba Inu price prediction or anything else? Join the discussion in our Telegram channel. You can also catch us on Tik Tok, Facebook, or Twitter.
Disclaimer
All the information contained on our website is published in good faith and for general information purposes only. Any action the reader takes upon the information found on our website is strictly at their own risk.