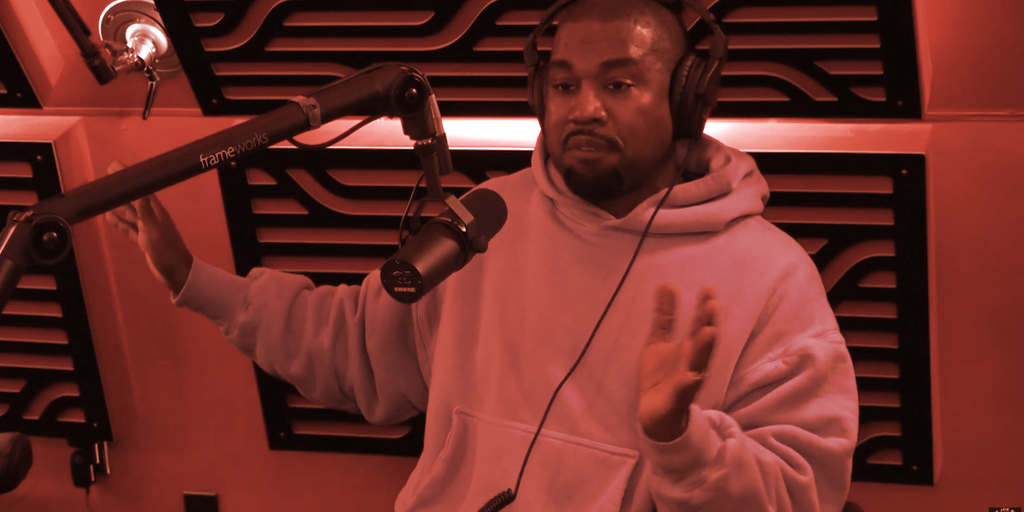 Move over, Elon. Ye is getting his own social media platform.
Kanye West, the controversial entertainer and supporter of former U.S. President Donald Trump, has agreed in principle to purchase the right-leaning social media platform Parler, according to Parler.
Parlement Technologies is pleased to announce that it has entered into an agreement in principle for Ye, formerly known as Kanye West, to acquire the Parler platform. The acquisition ensures Parler a future role in creating an uncancelable ecosystem where all voices are welcome. pic.twitter.com/KXdhV71prl

— Parler (@parler_app) October 17, 2022
No stranger to Bitcoin and cryptocurrency, Ye sang the praises of the technology during an October 2020 appearance on The Joe Rogan Experience. "The bitcoin guys have a perspective on what the true liberation of America and humanity will be," he said.
More recently, a photo of Ye wearing a "Satoshi Nakamoto" hat made the rounds on social media.
The move to purchase Parler comes in the wake of West's Twitter and Instagram accounts being suspended for what the platforms called "antisemitic comments" earlier this month—something he won't have to worry about with his own platform. 
According to Parler, the agreement is expected to close during the fourth quarter of 2022. It will include ongoing technical support from Parler's parent company, Parlement Technologies.
Launched in September 2018, Parler has long touted itself as a free-speech Twitter alternative. Following the January 6 capital riot, Parler was removed from the Google Play and Apple App stores. Parler was also removed from Amazon Web Services (AWS) for what the tech giant called its lack of policing of questionable and violent content.
Parler resumed service on February 15, 2021, with added content filters. The app returned to the Apple App Store on May 17, 2021, and Google Play on September 2, 2022. That same month, Parler announced the raise of $16 million in Series B funding.
Parler had 1.3 million visitors to its website in August, according to analytics website SimilarWeb. In contrast, there were 9 million monthly visitors on Trump's Truth Social, 6.8 billion on Twitter, and 18.2 billion to Facebook.
In March, Parler launched its NFT marketplace DeepRedSky. The first launch featured a line of digital art, "CryptoTRUMP Club," featuring Trump's image. Later collections include the Babylon Bee, Brandon Tatum, and the POTUS TRUMP NFT collection headed by former first lady Melania Trump,
Melania Trump made waves of her own after launching a separate series of NFT collections on the Solana blockchain. The Solana foundation quickly distanced itself from the project.
"I wanted to inform you, to avoid any confusion, that her choice to use the Solana blockchain was completely organic, and this project is not part of any Solana-led initiative," a representative told Decrypt.
Non-fungible tokens, better known as NFTs, are cryptographically unique tokens linked to digital and physical content or memberships that provide proof of ownership.
Parlement Technologies is optimistic about the prospect of West's ownership.
"This deal will change the world, and change the way the world thinks about free speech," Parlement Technologies CEO George Farmer said in a blog post. "Ye is making a groundbreaking move into the free speech media space and will never have to fear being removed from social media again.
"Once again, Ye proves that he is one step ahead of the legacy media narrative," Farmer continued. "Parlement will be honored to help him achieve his goals."
Representatives for West and Parler have not yet responded to requests for comment from Decrypt.
Stay on top of crypto news, get daily updates in your inbox.