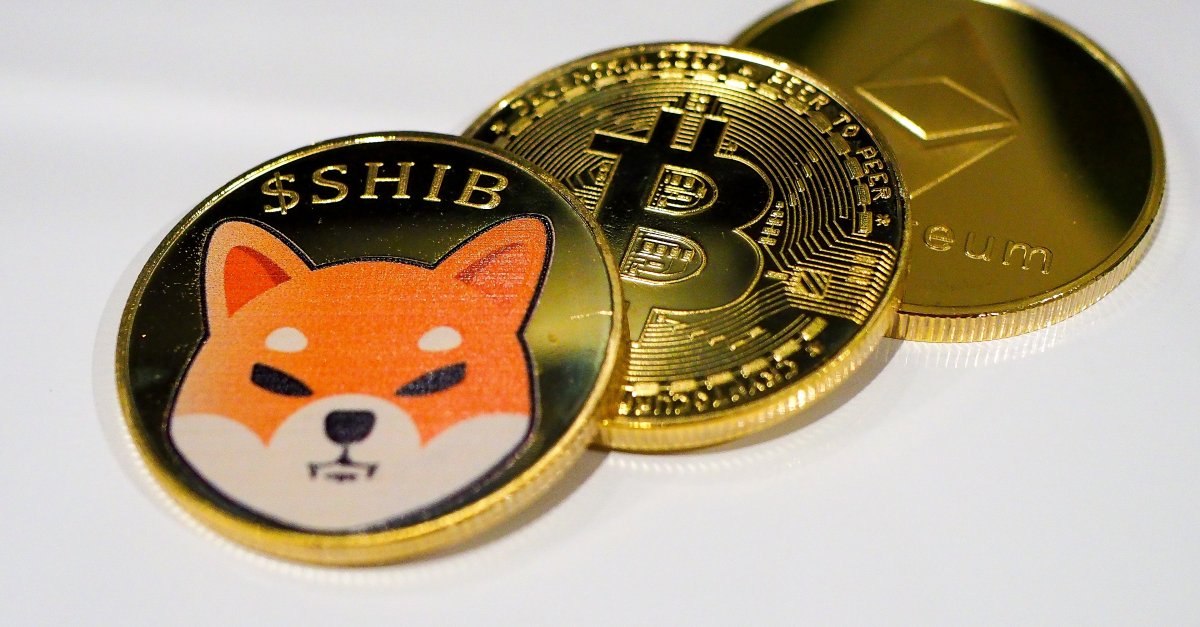 Bitcoin (BTC), the biggest token by market capitalisation, has been suffering losses amid the crypto winter of 2022. Meanwhile Shiba Inu's SHIB has also struggled through a volatile rain as the meme token entered the metaverse. 
What does this mean for the SHIB to BTC forecast? Let's take a look at the shiba inu to bitcoin cryptocurrency pair and some of the factors that may shape its exchange rate. 
What is SHIB/BTC?
SHIB/BTC is the exchange rate between SHIB, the native cryptocurrency for the Shiba Inu ecosystem, and BTC, the native coin on the Bitcoin Network. 
Dr Hamed Taherdoost, e-business professor at University Canada West, explained that the SHIB to BTC price is based on the data surrounding the rates of each cryptocurrency corresponding to US dollars used by online calculators and exchanges: 
"The rate gets updated live every few seconds as soon as the rates of the most recent exchanges alter."
Bitcoin is one of the most popular cryptocurrencies. It was created in 2009 by an anonymous individual or group of individuals collectively known as Satoshi Nakamoto. The cryptocurrency acts as a peer-to-peer payments system and uses one collective network known as a blockchain. 
This blockchain uses a Proof-of-Work (PoW) consensus mechanism, which is managed by miners that solve mathematical equations to confirm the legitimacy of each BTC transaction. For doing so, miners are rewarded BTC tokens. 
One of the biggest events surrounding bitcoin are halving events, which cut the rewards given to miners in half every 210,000 blocks mined, or approximately every four years. Halving events reduce the amount of BTC coins in circulation.
Shiba Inu is an Ethereum-based token that features the popular 2013 meme of a Shiba Inu dog on its coins. The so-called 'Dogecoin killer' is an altcoin and rival to the popular meme coin DOGE. The project aims to outperform DOGE without surpassing the $0.01 barrier, something it has done several times. 
Shiba Inu was launched in 2020 by an individual who also keeps their identity secret, using the nickname Ryoshi. While SHIB was created as a meme crypto token and launched as a joke, it has evolved into a "vibrant ecosystem". 
Ryoshi wrote on their Medium blog:
"When we design [sic] the SHIBA experiment, our goal was very altruistic to give an opportunity for fair distribution and ownership from day 1. This means even if I RYOSHI and my frens setup SHIBA, we have no more potential for ownership that anybody else in the world."
Unlike BTC, which has the maximum supply of 21 million coins, SHIB does not have a capped limit. 
What is your sentiment on SHIB/USD?
Vote to see Traders sentiment!
SHIB to BTC price action 
The SHIB to BTC price chart has been primarily following the SHIB/USD chart trading flatly between February 2020 and April 2021. The first surge in the SHIB/BTC exchange rate happened on 11 May 2021 when it jumped 15,425%, from 0.000000000004BTC on 16 April 2021 to 0.000000000621BTC.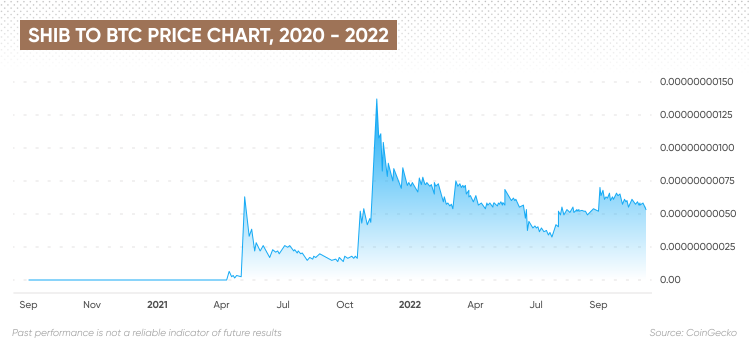 Around that time, the meme token was also performing well, as seen on the SHIB chart below. The cryptocurrency caught the attention of investors when Tesla (TSLA) CEO Elon Musk appeared in an episode of Saturday Night Live (SNL) and told viewers that Dogecoin (DOGE) was a "hustle". 
DOG fell. But SHIB surged by 13,242.3%, rising from $0.00000026 on 16 April 2021 to $0.00003469 on 11 May 2021.
The following jump in the bitcoin to shiba inu price took place on 28 October 2021, when the exchange rate reached its all-time high of 0.000000001355BTC. This was a surge of more than 745% since 2 October 2021, when the rate was valued at 0.00000000016BTC.
Similarly, the USD to shiba inu price saw a surge of about 920%, with SHIB hitting its all-time high of $0.00007924 on 28 October 2021 amid rumours that the token could be traded on the popular US trading platform Robinhood (HOOD).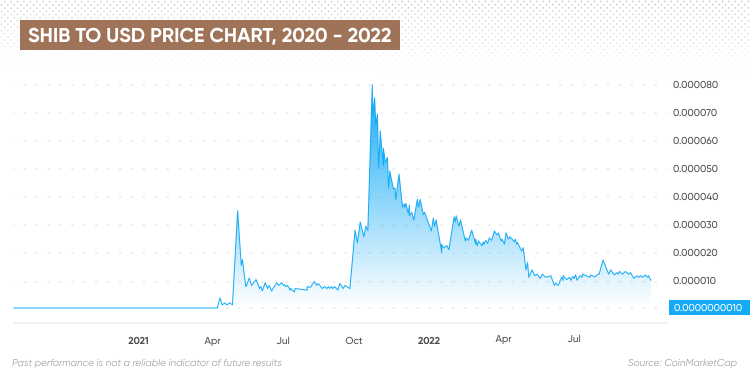 The BTC chart shows that the world's biggest crypto had also seen some successes, with the token's price hitting its all-time high of $64,000 on 12 November 2021. However, this did not have a big effect on the shiba inu to bitcoin price as shiba was also up. 
The SHIB/BTC exchange rate fell by 76.2% since its October 2021 high to 0.0000000000323BTC by 13 June 2022. The memecoin managed to regain some of its losses against BTC by 15 August 2021, reaching 0.000000000696BTC, a surge of around 2,055%. At the same time, the shiba inu price in US dollars had surged overnight by around 34% reaching $0.00001692 on 15 August 2022. 
Since then, however, the SHIB/BTC price chart indicates that SHIB started trading downwards losing over 20% of its gains against BTC, down to 0.00000000053BTC by 14 October 2022. 
Entering the metaverse and other SHIB/BTC news
Maxim Shilo, digital assets analyst at CoinLoan, said the SHIBA/BTC current exchange rate is highly influenced by an overall bear market that cryptocurrencies are experiencing. He added:
"There is not much going on in the markets in general. Everyone is waiting on the sidelines. This is especially true for meme coins like Shiba Inu. Memes are a hot topic when it comes to a bull market, but currently we are very far from that. When the world is fighting with high inflation and a war, the memes become less and less relevant."
However, apart from macroeconomic factors, the SHIB to BTC exchange rate has benefited from the platform's step into the metaverse which was the reason for renewed investor enthusiasm, Dr Taherdoost noted.
On 6 October 2022, Shiba Inu released its own immersive metaverse game known as Shiba Eternity, the blockchain's first step into the metaverse and further expansion. The game's name was revealed by the blockchain in early August, however, the platform announced it was ready to enter the metaverse in early February 2022.  
In addition to the launch of Shiba Eternity, Shiba Inu is also working on a metaverse project called SHIB: The Metavrse, where token holders will be able to carry out a number of actions including purchasing lands and win non-fungible tokens (NFTs) as well as a number of tokens including BONE, LEASH and SHIB. 
In other news, the SHIB to BTC price also benefited from Shiba Inu announcing that the popular crypto exchange platform Binance had added SHIB coins to its list of supported cryptocurrencies for its Binance Card, which is issued in Europe. 
Dr Taherdoost added that the shiba inu price may have benefited from renewed interest in Ethereum, which "provides the fundamental blockchain for SHIB".
SHIB to BTC forecast for 2022 and beyond
Based on the analysis of past shiba inu price performance, as of 14 October, the algorithm-based forecasting service Wallet Investor predicted that SHIB/USD could fall to $0.00000146 in 2023. The platform did not provide a price prediction for 2027. 
In terms of its bitcoin price prediction, the site saw BTC/USD trade at $25,373.90 in 2023 and reach $47,496.74 by 2027.
While Wallet Investor did not provide a direct SHIB to BTC forecast, data suggested that the exchange rate could be 0.000000000575BTC in 2023. 
DigitalCoinPrice predicted that SHIB/USD could rise to $0.0000129 by the end of 2022, the site's data showed, as of 14 October. The coin was expected to trade at $0.0000171 in 2023 and $0.0000271 in 2025. Its long-term prediction saw the coin reaching $0.0000577 in 2030. 
The site also gave an upbeat BTC/USD forecast, expecting the coin to grow to $24,820.32 by the end of 2022, $32,396.10 in 2023, $51,302.63 in 2025 and surpass $108,000 in 2030. 
DigitalCoinPrice's SHIB/BTC forecast for 2022 expected the pair to reach 0.000000000519BTC and 0.000000000527BTC in 2023. The site's SHIB/BTC forecast for 2025 stood at 0.000000000528BTC. Its long-term SHIB/BTC forecast for 2030 was 0.0000000005342BTC.
According to Shilo, the SHIB to BTC price is heavily affected by "the strength or price stability of the blue-chip crypto BTC and the weakness of the market". He said: 
"As a rule of thumb, everything is losing value against BTC. Some say that any coin available for trading is just made to accumulate BTC away from retail customers, which is not very far from the truth, in my opinion."
Dr Taherdoost noted that "Shiba Inu is getting much support from the cryptocurrency community and much content is created about its increasing price in 2022 and future predictions…
"This cryptocurrency is affected by the statement that everyone should be free to buy unlimited Shiba Inu coins in the open market. Thus, there would be a fair market that is not biassed and cannot be dumped. Based on the provided technical analysis of the prices of Shiba Inu and referring to price fluctuations in 2022, crypto experts expect rising trends for the upcoming year as well."
Keep in mind that analysts' and algorithm-based predictions can be wrong and shouldn't be used as a substitute for your own research. Always conduct your own due diligence on the cryptocurrency before trading, looking at the latest news, a wide range of analyst commentary and technical analysis. Note that past performance does not guarantee future returns. And never trade money you cannot afford to lose. 
FAQs
Why has SHIB to BTC been dropping?

In 2022, SHIB slumped lower than BTC, losing 69% since the start of 2022 versus BTC's 58% fall, as of 14 October. This caused the SHIB/BTC rate to decline. The meme coin suffered from wider sentiment shift and a bearish macroeconomic environment.
Will SHIB to BTC go up or down?

As of 14 October, Wallet Investor predicted that SHIB/USD could fall to $0.00000146 in 2023. The site did not provide a price prediction for 2027. In terms of its bitcoin price prediction, the site saw BTC/USD trade at $25,373.90 in 2023 and reach $47496.74 by 2027. While Wallet Investor did not provide a direct SHIB to BTC forecast, data suggested that the exchange rate could be 0.000000000575BTC in 2023. Note algorithm-based forecasts can be wrong and shouldn't be used as a substitute for your own research.
When is the best time to trade SHIB to BTC?

Cryptocurrency markets are open 24/7, which means you can trade SHIB/BTC at any time of day. Looking at technical analysis and following the latest news and updates to conduct your own market research could help you figure out which time is best for you.
Is SHIB to BTC a buy, sell or hold?

Your trading strategy for SHIB/BTC should depend on your personal circumstances, risk tolerance and portfolio composition. You should do your own research to develop an informed view of the market. Look at the latest news, technical analysis, and analyst commentary before making any investment decision. Keep in mind that past performance is no guarantee of future returns. And never invest money that you cannot afford to lose.
Related reading