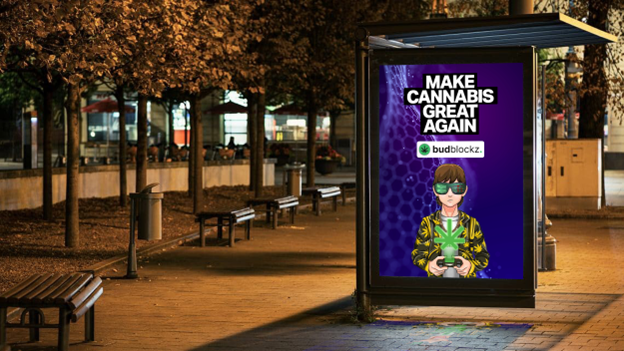 When it comes to investing diversification is extremely important. Having a diverse portfolio allows you to spread your risk something that is highly recommended especially when dealing with crypto. By investing in a variety of different coins and tokens, you can protect yourself against the ups and downs of the market, and when it comes to diversification, few coins offer more potential than Chainlink, Tamadoge, and BudBlockz.
What is BudBlockz?
Budblockz (BLUNT) is a blockchain and crypto project that serves the cannabis industry. The project is the first of its kind to offer cannabis enthusiasts NFTS backed by cannabis dispensaries, businesses, and cafes.
Blunt is the native token of the BudBlockz ecosystem. The coin is used for governance in the BudBlockz ecosystem. Blunt holders can make proposals and vote on different issues affecting the blockchain.
Although BudBlockz is a new project currently in phase 2 of its presale stage, it has already attracted a lot of attention from investors. The BLUNT token private sale sold out ten days ahead of schedule. The first phase of the pre-sale was just as successful as the private sale, and early investors have already seen over 76% returns from their BLUNT tokens.
Why BudBlockz Is a Good Investment Option
BudBlockz is focused on building a community around the cannabis industry whose retail sector is expanding quickly.  The industry is expected to grow to about $176.5 billion by the end of the decade. Governments around the are passing legislation to legalize the use of cannabis for medicinal and recreational purposes.
Another reason to invest in BudBlockz is that it's more than just a blockchain project. As a cannabis enthusiast, BudBlockz will give you a community of fellow-minded people that you can interact with as well as giving customers the freedom to trade in a secure, safe, and private manner. What is more, you can also purchase Ganja Guruz NFTs and own parts of BudBlockz business, farms, and dispensaries.
What Is Tamadoge
Launched in July 2022, Tamadoge is the native cryptocurrency of Tamaverse. Tamadoge holders can create, breed, battle, and care for Tamadodge pets.
Tamadoge is a deflationary coin, as such, its holders can battle to climb up the leader board by gaining dogepoints. At the end of each month, individuals who have accumulated the most Dogepoints are allowed to claim their prizes from the Dogepool.
Tamadoge is meant to grow with time, users have to keep checking on them from time to time. Without constant attention, Tamadoge turns to Tamaghost.
Just like BudBlockz, Tamadoge is a new project that has attracted the attention of investors even before its official launch.
What is Chainlink?
Chainlink is a peer-to-peer oracle network that plays a vital role in the implementation of blockchain technologies.  The network's main goal is to provide real-world data to smart contracts on the blockchain.
Smart contracts are contracts that execute automatically when a certain set of requirements is met. When a smart contract needs data that is not available on the blockchain, Chainlink checks the reputation of ten oracles that provide the data to ensure that they are reliable. This ensures that all the data used in a smart contract is accurate and reliable.
Link is the native token of Chainlink. The token is used to help finance the growth of the Chainlink platform.
Final Word
When investing in a market as volatile as the crypto market, the key is to diversify as much as possible. With a diversified portfolio, you are less likely to lose all your investments, in case one or two of your investments go downwards, the profits from your other coins will help you cover your losses.
Although there is no telling what will happen with the crypto industry, BudBlockz, Chainlink, and Tamadoge are worth looking into as we move into 2023.
Learn more about BudBlockz (BLUNT) at the links below:
Official Website: https://budblockz.io/
Presale Registration:: https://app.budblockz.io/sign-up
Telegram Group: https://t.me/BudBlockz
Discord Server: https://discord.gg/s7hBFgvTmN
All BudBlockz Links: https://linktr.ee/budblockz
Disclaimer: This is a paid release. The statements, views and opinions expressed in this column are solely those of the content provider and do not necessarily represent those of NewsBTC. NewsBTC does not guarantee the accuracy or timeliness of information available in such content. Do your research and invest at your own risk.