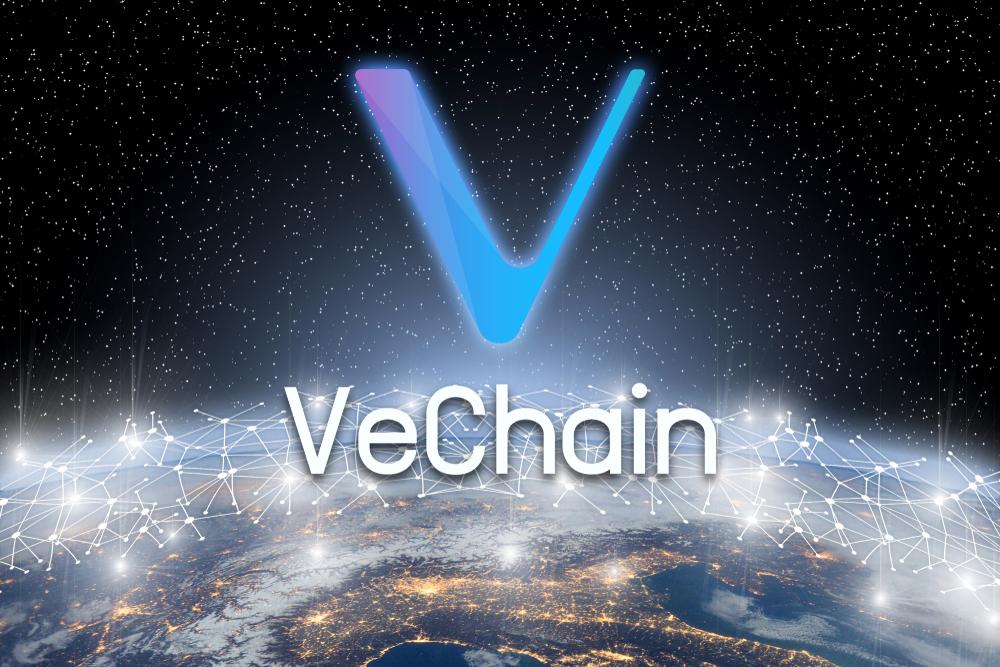 Source: Akarat Phasura – Shutterstock
A speech at the summit highlighted VeChain's SaaS solutions to enable businesses to modify their carbon footprint management practices.
This year's Wanxiang Blockchain Summit focused on digital transformation, Web3, and carbon neutrality.
---
The 2022 Shanghai International Blockchain Week was held between September 16 and 28 in the Hongkou district in Shanghai. The first three days were for the 2022 Wanxiang Blockchain Hackathon. During the event, 8 cases analyzed the global carbon market and how VeChain's technology can help improve carbon management practices.
In a speech at the 8th Wanxiang #Blockchain Global Summit, VeChain was highlighted for its #SaaS solutions that would "enable businesses of any size to redesign their #carbon footprint data management practices." ?

Full Article ?https://t.co/WtltpJ4M9t#Sustainability #Tech pic.twitter.com/ZfsSkwOIib

— eisenreich (@eisenreich) October 11, 2022
A Professor at Singapore's Sin Yue University of Social Sciences, Li Guoquan, provided a detailed analysis of the features of new information technologies notably blockchain and artificial intelligence. He also explained how technological development in Singapore and the whole world could contribute to excellent and sustainable global development through practical use cases. Singapore is already implementing these use cases under its "dual carbon" objective.
VeChain's carbon management platform
The fourth case highlighted the importance of VeChain's SaaS platform for carbon data verification. Professor Guoquan explained that VeChain's digital carbon footprint SaaS platform could help businesses improve their carbon footprint data management practices regardless of their size. VeChain has been in the news since last week for various positive reasons.
Two days ago, it announced its expansion into Europe by establishing two new facilities in this region. The blockchain also announced that it would recruit at least 100 new developers into its new Europe office. The good news surrounding the VeChain network is probably responsible for the increase in the price of the network's native token (VET). Current data shows VET is up 7.80 percent in the last 24 hours and trades at $0.0233.
In addition, the highly respected academician also referenced another platform in its fifth case (Wancarbon's Rubik Cube blockchain platform). The platform is a combination of various technologies as one tool. Such technologies include IoT, Security Cloud, blockchain, and knowledge map.
Wancarbon Rubik's Cube blockchain tool helps businesses monitor their product's life cycle carbon footprint. The tool also allows buildings and parts to track their carbon emissions and analyze and monitor their carbon assets.
The 8th Global Blockchain Summit
Apart from the grand opening, the summit had a lineup of themed forums, with each session lasting for up to 3 hours. All the speakers spoke about the trending issues in the blockchain and crypto space. They covered topics related to Layer2, DAO, Web3, privacy preservation, carbon neutrality, IoT, metaverse, and data security.
More than 70 industry players, including scholars, thought leaders, and experts were in attendance to discuss the hottest issues revolutionizing the way we work and live, especially over the long term. They also recommend solutions to some of these burning issues.
Wanxiang Blockchain Labs has been hosting the global blockchain summit every autumn for the last seven years. The event has become one of Asia's most popular events. Blockchain experts and enthusiasts meet at this event annually to discuss current trends, burning issues, and available opportunities in the blockchain space.